Poldo the Little Ghost in LIS
Fondazione Luigi Rovati is supporting the Poldi Pezzoli Museum in the PoldiPezzoliLis project: the first inclusion initiative that will see the two Milanese institutions side by side in a shared program of mutual collaboration and promotion.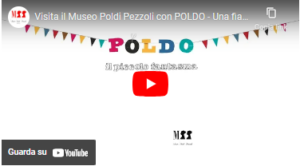 On Sunday, October 9, on the occasion of Family Day at the Museum, the Poldi Pezzoli presents the inclusive cartoon "Poldo the Little Ghost." Poldo is an LIS cartoon with subtitles, made to be seen and heard by everyone. Based on the book published by the Poldi Pezzoli Museum and Johan & Levi in 2010, with illustrations by Silvia Gherra and text by Maria Teresa Balboni Brizza, the audiovisual tale was created by Propp, on the occasion of the Bicentennial celebration of the birth of Gian Giacomo Poldi Pezzoli. This is an important step in the Museum's accessibility, which offers this innovative cartoon starring Poldo, the Museum's mascot who for years has accompanied children (ages 5 to 11) on their discovery of the collections.
The October 9 event at 3 p.m., aimed at families with children ages 5 to 11, will include a presentation of the cartoon and a guided tour, with LIS interpreter, to discover the Museum's collections together with Poldo. It will also be possible to access the video while visiting the museum through a QR-code, found on the illustrated map. The cross-use of different media (paper map and electronic devices), makes the museum experience an active and dynamic moment able to actively involve the young audience.
At the end of the visit, illustrator Silvia Gherra, thanks to the collaboration with Pineider, will make a small cardboard Poldo for all children present.
Sunday, October 9, 3 p.m.
Free admission by reservation at info@museopoldipezzoli.org while places last.
Children ages 5 to 11
A sign language interpreter will be present